Food & Wine Pairing Tips
Acidity, fat, salt and umami are a chef's toolbox. By adjusting each of these components in a dish, you will open up a wide range of options for pairing Twomey wines with food.
Pairing wine with food is about taking all of the ingredients we have at our fingertips and balancing the flavors. But there are also well-known foundational and bridge ingredients for pairing Pinot Noir and Sauvignon Blanc.
Pinot Noir is widely considered the most versatile of all red wine grapes for pairing with food due to its delicate weight and bright acidity. Myriad black and red fruit expressions combined with the lean, racy tannins of French oak make Pinot Noir a "can't miss" pairing option. Aromatics range from black cherry to raspberry, or cola to currant.
Base Ingredients
Pork, pork belly, roasted chicken, veal, rabbit, quail, most seafood
Bridge Ingredients
Roasted garlic, fried eggs, roasted root vegetables, tomato-based sauces, gastrique sauces (with controlled sweetness and acidity), chicken jus, olives, Dijon mustard, fennel, eggplant, rosemary, oregano, sage, sun dried tomatoes, pancetta, prosciutto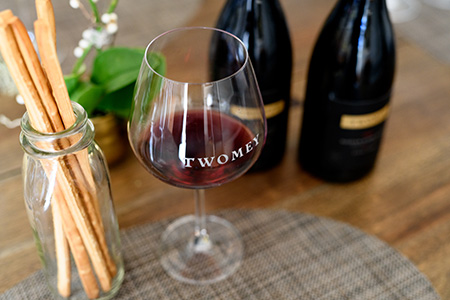 ---
Twomey Sauvignon Blanc carries a bright, tropical fruit expression from our Napa Valley estate vineyards, unfolding on the palette in the form of guava, papaya, gooseberry and other melon flavors. Together with the telltale "wet slate" minerality of our Sonoma estate vineyards, Sauvignon Blanc makes for classic white wine pairings such as grilled fish, oysters and goat cheese.
Base Ingredients
Grilled fish, oysters, shellfish, chicken breast, turkey, goat cheese
Bridge Ingredients
Tender herbs, mint, tarragon, basil, cilantro, dill, all citrus, red bell peppers (raw or roasted) buttery olive oil, flaky butter crusts, yeasty bread, goat cheese, Gruyère, ricotta, mozzarella, feta, Castelvetrano olives, curry spices, sour cream, yogurt, roasted garlic, Dijon mustard, capers, prosciutto, eggplant, sun dried tomatoes, pine nuts, almonds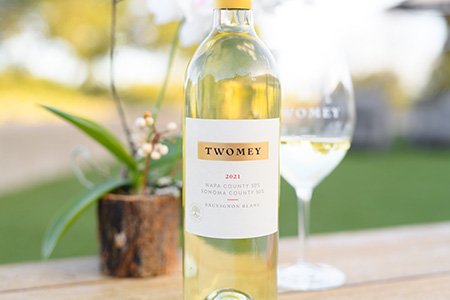 ---